Free
Text Reminder App
Enter the recipient's phone number.
Pick a date and time.
Add your message.
Schedule it.
Create a free account for more features. Perfect for personal or businesses.
Create Your Free Account Now
Start scheduling and sending texts today.
Currently, only available in the U.S. Join the waitlist to get a notification when we launch internationally.
Features
Send and schedule text messages. Save drafts. View past texts. All for free.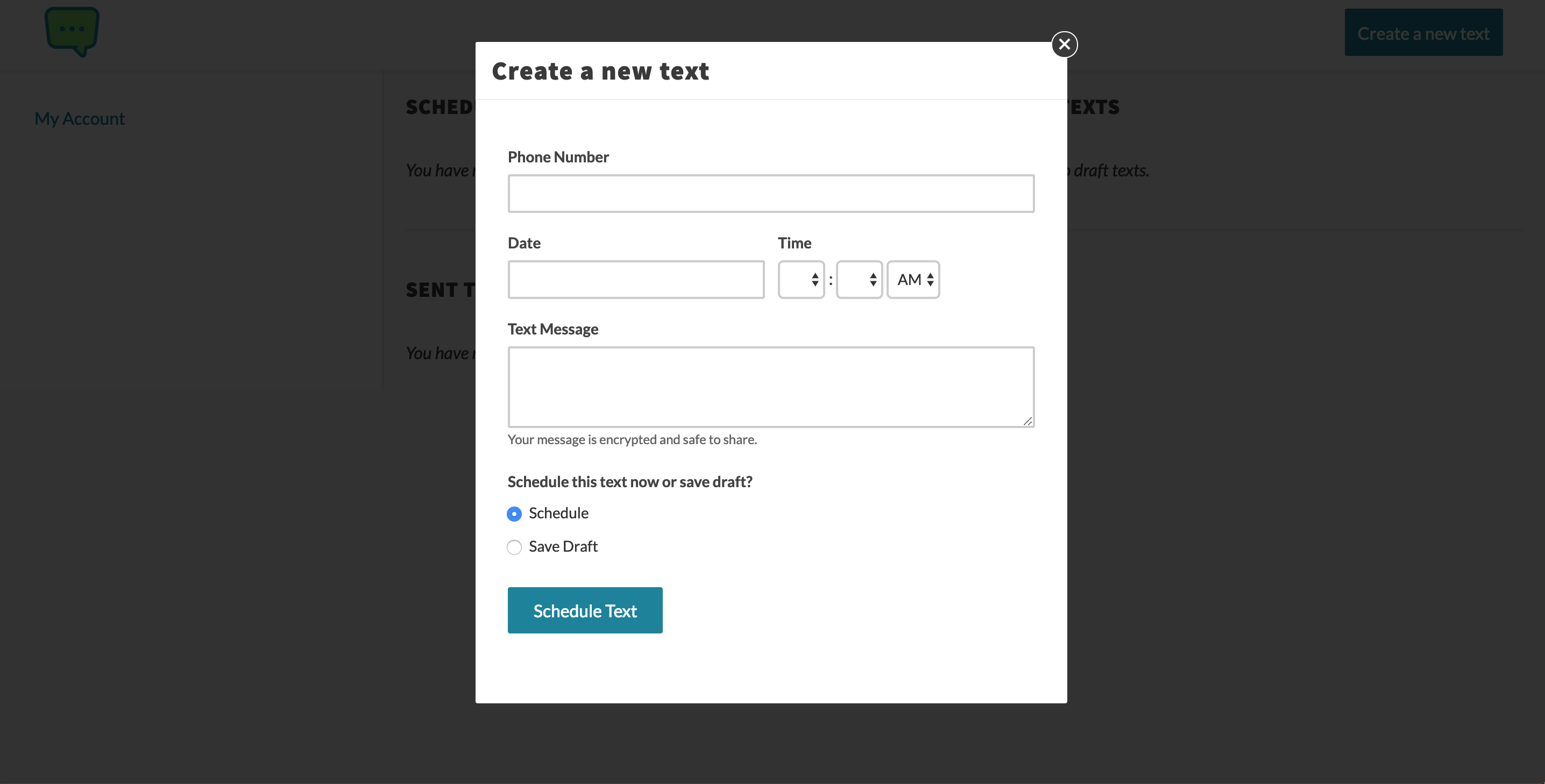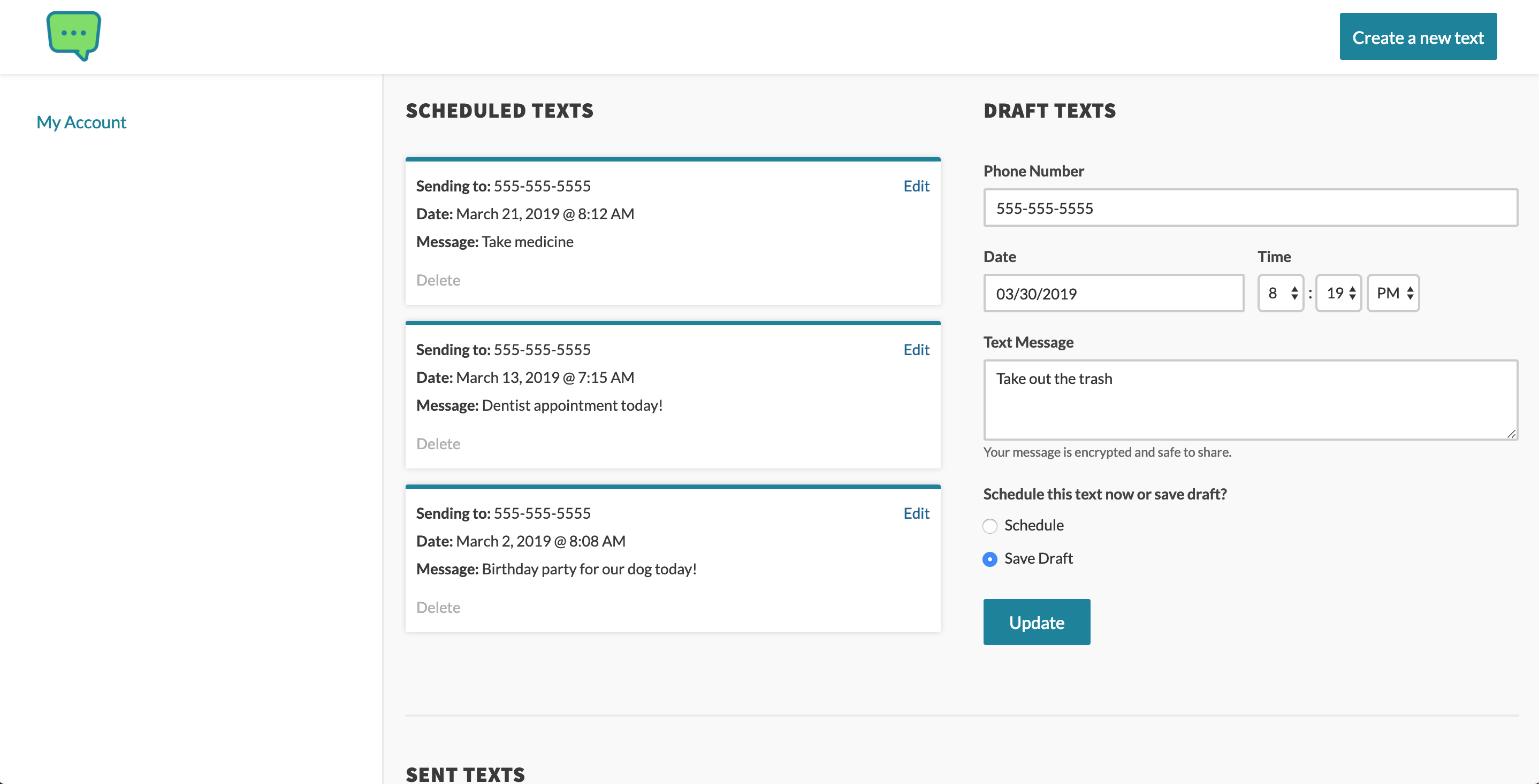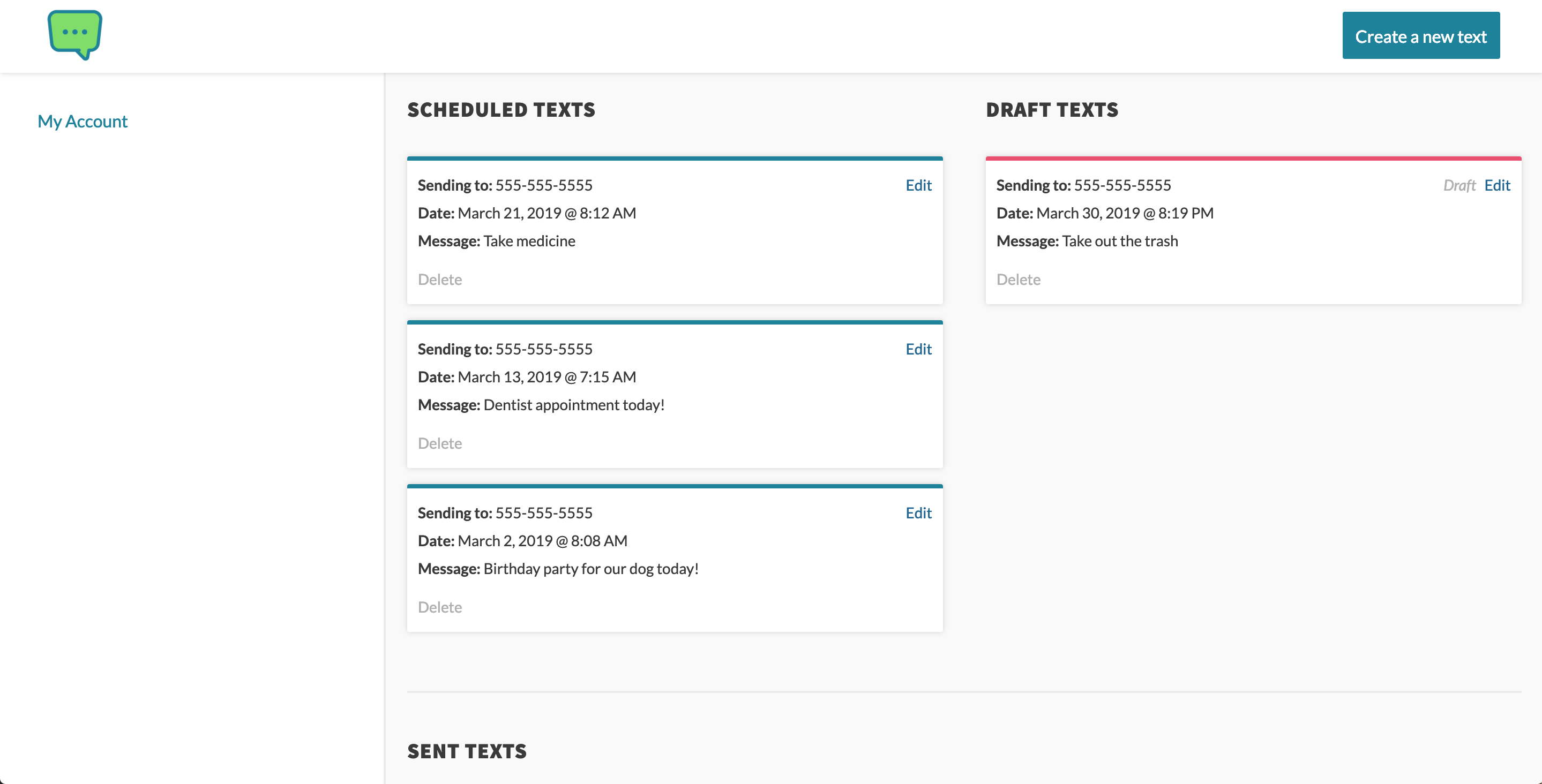 Import Contacts
Import contacts from a list you already have to easily manage who receives your texts.
Private Number
Every account gets their own private number. Pick your number when you create an account.
Templates
Save time by creating text message templates for frequently sent text messages.
Recurring Texts
Create a text message to send at the same interval regularly to the same contact(s).
Organizations
Create an organization and invite unlimited users in your organization to your account.
Group/Mass Texting
Create and manage groups. Send or schedule one or multiple texts to your groups.
Integrations
Google and Microsoft contacts integration to easily sync and manage your contacts.
MMS Marketing
Send text messages with images and other rich media like emojis, gifs, and videos.
For Businesses
Send free appointment reminder texts to your customers. 
Barber Shops
Hair Salons
Massage Therapy
Spas
Chiropractors
Pet Services
Education
Bridal Salon
Consulting
Legal
Dentist
Doctors
Personal Trainers
Gym
Nail Salon
Counseling
Healthcare
Home Repair
Professional Services
Financial Services
Photography
Automotive
Interview Scheduling
Religious & Church
Nonprofits
Healthcare
Frequently Asked Questions
Yes. You can only create 20 entries (draft or scheduled texts) every 30 days. You can send an unlimited number of text messages per month if you upgrade to our premium plan for only $10/month!
Nope. Whatever service provider you carry, standard messaging rates apply.
An account allows you to have more features like viewing scheduled texts, being able to edit and delete your scheduled texts and creating draft texts for later.
Yes. We can set you up with your own phone number for $5/month.